Brazilian Jiu Jitsu Classes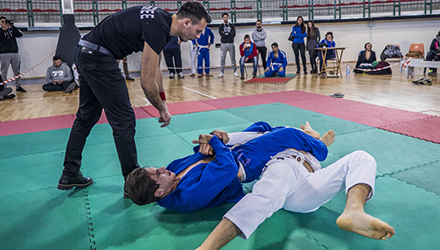 A martial art for the modern era, the surging popularity of Mixed Martial Arts has spurred interest in Brazilian Jiu Jitsu. The Champion Club offers a comprehensive training schedule for adults and children interested in bettering their mind, body and spirit. Our Jiu Jitsu program is tailored to suit the individual needs of each practitioner. We work to build a safe environment that matches the abilities of every student, cultivating the skills of everyone from children new to the sport to adults with years of practice behind them.
The Champion Club makes it easy to enrol in a world-class education in BJJ. Our competitive membership rates and convenient location in the Jumeirah Lakes Towers complex makes us one of the most accessible dojos in Dubai. We invite anyone interested in bettering themselves as a person and an athlete to start a conversation with our staff today.
Building stronger people
Brazilian Jiu Jitsu not only empowers individuals and grows confidence, it builds strength, agility and fitness. Regarded as one of the best choices for athletes looking for a functional fitness program, BJJ provides both the exercises to strengthen your body and the ideal framework to practice them in.
The structure of each training session – a brief warm up followed up a period of sparring – means that you are giving your body a complete interval workout. With a tangible goal to reach for – winning the match – you'll push yourself further under the watchful eye of our experienced instructors, allowing you to get maximum benefit with minimal chance of injury. BJJ can help individuals build core strength, cardiovascular fitness, flexibility and muscle tone, providing more multifaceted benefits than more single-focus activities such as running or weight lifting. Discover the benefits today and enrol in The Champion Club.
Helping you reach your potential
The Champion Club offers a range of classes covering a broad range of disciplines, allowing everyone the chance to build themselves into the athlete they want to be. Discuss your goals with one of our instructors and take advantage of your first free class today!