Crossfit Dubai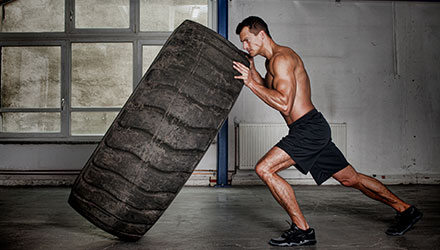 Join the global fitness revolution. Founded in 2000, Crossfit has become one of the premiere exercise systems in the world. The favourite of sports teams, military organisations and law enforcement agencies around the world, Crossfit delivers a complete workout that improves your body's overall levels of cardiovascular fitness while enhancing your muscular strength. Conducted under the watchful eye of our expert instructors, you'll be guided through a diverse range of workouts, challenging you at just the right level and keeping you growing and developing.
Located in the Jumeirah Lakes Towers (JLT) complex, our Crossfit studio delivers one of Dubai's best workouts at an amazing price. The Champion Club offers affordable membership rates, allowing more people on more budgets the chance to get in the best shape of their lives. Take advantage of a free lesson and find out if Crossfit is right for you.
A Global Fitness Phenomenon
Over the last two decades, Crossfit has spread from a single gym in California to a globe-spanning network of more than 13,000. When you break the system down, it's easy to understand its vast popularity. Crossfit is ideal for those who are looking for an exercise regimen that will enhance their strength but that offers a different atmosphere from traditional weightlifting. A structured class means that not only will you be led by a skilled instructor, you'll be able to compete with other members of the group, learning from and supporting each other.
We Help you Achieve your Potential
Make the right choice for your health and enrol in one of the expert-led classes at The Champion Club. Offering a diverse range of martial arts alongside a series of fitness programs, it's easy to find something that suits your goals and lifestyle. Contact us at our Dubai location to learn how we can help you, or to book your complimentary first class.